An offer letter for any job role gives basic details about your role, location, or salary. It should use simple communication and mention the salient points of the job offer. It should also talk about the benefits offered by the company. The details mentioned in an offer letter influences the candidate to accept the job offer.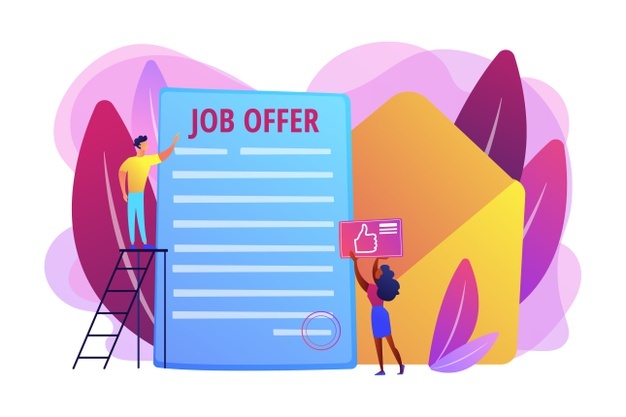 How to Write an Offer Letter
There is no standard offer letter format for all employers to adhere to. But since it is a legal piece of paper, an offer letter doc must have some basic details. It must include a short description of the roles and responsibilities. It should also have other information like:
Joining date
Name of the reporting manager and department
Salary and other benefits like health insurance
Terms and conditions of employment
Employers can refer to sample offer letter formats to understand 'how to make an offer letter.' They can also read offer letter email templates for greater clarity on this issue.
What to Include in the Offer Letter
An offer letter is a legal document prepared by a company. It must include some of the following things:
The Company Logo or the Official Letterhead
A job offer letter document is a formal document prepared by the company. It must have the company letterhead or logo at the top of the document. Having the employer's seal on the letter gives it legitimacy. It conveys to the candidate that this document has the company's seal of approval.
Date and Contact Details
Some employers issue a provisional offer letter, while others give the final document. But both of them should include the joining date and contact details. No offer letter for a job is complete without mentioning these two points. Recruiters can check sample job offer letters given to employees to get clarity on this.
The Opening Line
The employer can use a greeting for the opening line or keep it formal. They can start with something like 'Dear (Candidate's name).' They can also congratulate the candidate on clearing the interview process. From there, the offer letter doc can say something like 'We wish to offer you a position at (company name). Recruiters can go through standard 'job offer letter to employee' samples used in India to understand this issue better.
Specific Details About the Position
Companies must include the following details when they send the offer letter email to candidates.:
The offer letter should have basic details about the job role. It includes the roles and responsibilities of the employee joining the organization. It gives the prospective employee a better idea about the position.
It should mention details like the name of the reporting manager and department.
Most companies also specify the employment status in the offer letter doc. They specifically mention whether this position is on a full-time or part-time basis.
It is essential to include these points to give the candidate a clear picture of the role.
Salary and Benefits
No offer letter template in India is complete without talking about the salary and other benefits. It must have the compensation structure of the candidate. The details should include the annual CTC breakup, frequency, and mode of payment. Some letters also include bonus and commission structures.
Other benefits include facilities like medical insurance, flexible hours, or work from home.
At-Will Status
Every offer letter format sample has a clause on the termination of employment. It gives the right to both company and its employees to terminate the contract at will. This clause is also subject to certain conditions, which must be present in the letter as well. Employees should go through offer letter sample documents or offer letter examples for better understanding.
Expiry Date (Optional)
Most offer letter formats include a clause for the expiry date. Most companies prefer to give the candidate a deadline of around one week to consider the job offer. A time limit enables companies to find other prospects if a candidate does not accept the offer. You can check offer letter templates for Indian companies for more clarity on this issue.
Closing Line
The closing line of an offer letter for any job role is critical. It includes contact details on how a candidate should get in touch in case of any queries about the offer. Whether it is an offer letter format for software engineers or journalists, most documents carry this line. This is not limited to full-time job offers. Even the offer letter format for internships has this line. You can program the offer letter generator software to include a standard closing line.
Legal Considerations to Keep in Mind While Writing the Offer Letter
An offer letter is a legal document. Both the employer and employee can use it in case of a dispute between the two parties. So as an organization, it would help if you were careful about what you include in your offer letter format. There is no standardized job offer letter sample across India. Yet, there are some terms and conditions present in most documents of this nature.

Want to get that tedious process of hiring off your plate? See what we have in store for you with our AI-powered Applicant Tracking System.