What is a job description? A job description is the first impression you make as a company to your potential hire. It includes all the essential details regarding a specific job like title, location, summary, duties, responsibilities, good to have skills, salary range, to whom the candidate should be reporting, etc.
Creating a job description helps employers zero down on the desired qualifications and work experience needed for hiring candidates. It also helps candidates understand what a company is looking for when they interview with them.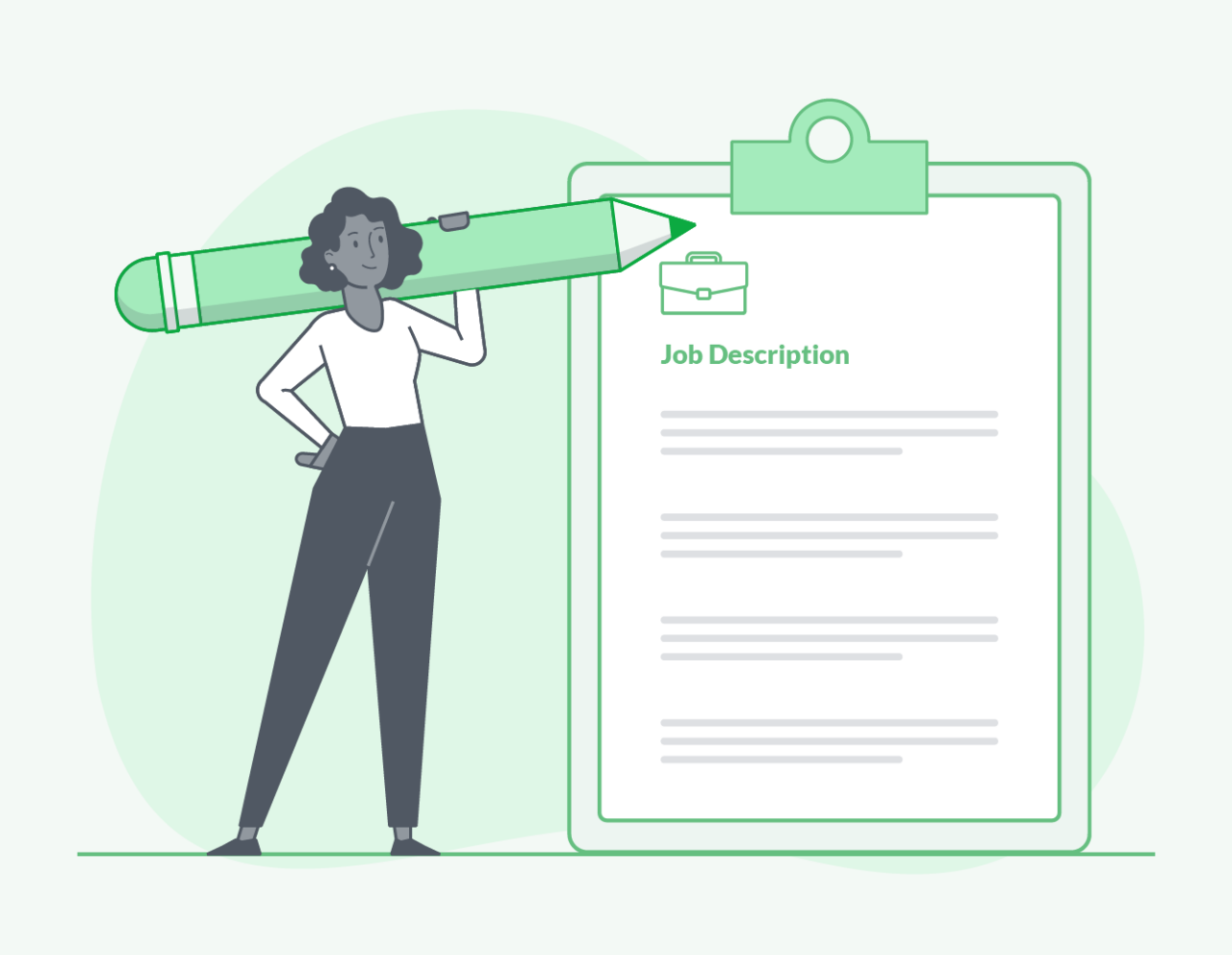 How to write a job description
A job description should include the Job title, duties, skills required, qualification, work experience, salary, and job location.
Job Title
The title should be informative enough to convey the job description, meaning quite succinctly. It should also be specific to the nature of work while avoiding company jargon to avoid confusion (For Example, Assistant Research Manager is much more precise than Assistant Manager or Grade 5 Manager).
Job Overview
This section, which comes right after the Job Title, provides brief details about the position and the organization. It gives candidates an overall summary of what to expect from the role, work environment, job location, and suitability for prospective job seekers.
Responsibilities and Duties
The Responsibilities and Duties section gives you a consolidated list of the tasks you will handle as an employee. It also tells you about the importance of each of these tasks. It provides an idea about the general nature of the employee's work in this position.
Qualifications and Experience
Every job description must specify the educational qualifications, work experience, technical skills, soft skills, and certifications required for the role. It is an excellent way to filter candidates. But recruiters should also be careful about not making the selection criteria too stringent, or else it may dissuade applicants.
How to Create More Inclusive Job Descriptions
An inclusive job description helps the candidates picture themselves in a particular role. Sometimes candidates end up not applying for the positions they would have been a good fit for, as they find it difficult to identify with the job description of a particular role. Writing an inclusive job description will not only make working in a specific organization more relatable, but it will also give you more candidates to choose from. Here are a couple of ways in which one can create a more inclusive job description :
Avoid using gendered terms that discourage any particular gender from applying.
Instead of listing down all the requirements, only include the 'must-haves.'
Consider mentioning a salary range.
Avoid corporate buzzwords and try sticking to plain text.
Use more inclusive language.
A Sample Template for Job Description
Below is a sample template for your reference:
Job Title:
State the Formal Designation
Reports To:
The [job title] will report to [state the designation of reporting manager].
Job Location:
State the city/town/village that the new joiner will be reporting to.
Job Overview:
Provide a summary of three-four-sentences describing the role. State the appraisal and promotion criteria and also mention how the part fits into the organization structure.
Responsibilities and Duties:
List the essential tasks within this job in decreasing order of importance.
Qualifications and Skills:
List the educational background, certifications, work experience, technical and soft skills, and personal characteristics that you are looking for.
Difference Between Job Specification and Job Description
There are essential distinctions between Job Description and Job Specification. We will enlist these differences below:
A job description includes job title and summary, duties and responsibilities, etc., whereas a job specification includes qualifications, previous experience, skills, and emotional aptitude required for the job.
A job description evaluates the importance of the tasks within the role, while a job specification looks at the capabilities required for the position.
A job description helps management to measure performance and training needs. A job specification helps prospective job seekers understand their eligibility for this role.
A job description helps the company decide on the suitability of employees for particular roles. A job specification helps them decide on things like promotions and increments.